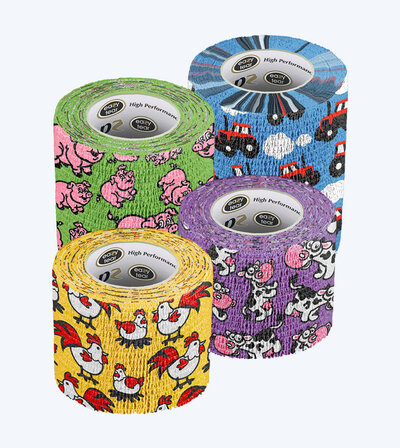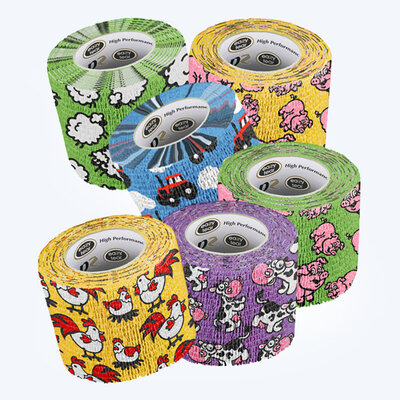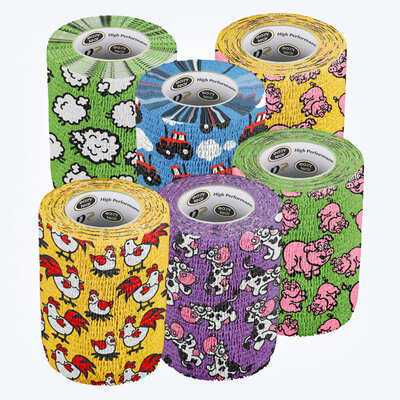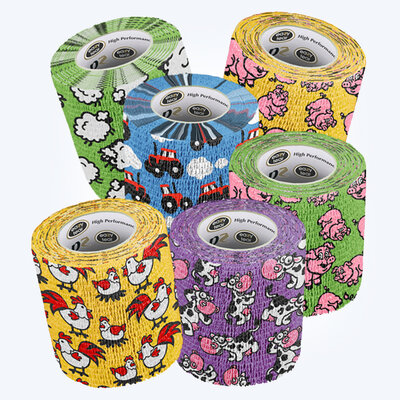 Rapz Eazy Tear® Funny Farm Variety Pack
Bandages • Rapz Eazy Tear® Cohesive Bandages • Pet Owner Products
High Performance Cohesive Bandages. 5 metres long (stretched). 12 pack.
To enquire about this product log in or enquire
Or
Product Enquiry - Rapz Eazy Tear® Funny Farm Variety Pack
Description:
Wrapz™ is now Rapz Eazy Tear®. Same great bandage, slightly different name.
Available in our Rapz Eazy Tear® Stack Offer
These designs make a really big impact. Choose to visit the FUNNY FARM or walk on the WILD side with some bold animal prints.

Rapz Eazy Tear® Provides protection and support for tendons & ligaments.

Practical, hardwearing and cost-effective. Sticks only to itself - not to skin, fur, feathers or hair!

With all the same high-quality construction and performance of Original Rapz Eazy Tear®, printed bandage rolls are reverse-wound to ensure correct application to your patient. Rapz Eazy Tear® prints are available in a wide and popular variety of themed characters or styles.
In a Funny Farm variety pack: Sheep (3) / Chicken (3) / Tractor (3) / Pig Green (1) / Pig Yellow (1) / Cow (1)
Rapz Eazy Tear® prints are available in 5cm (2") 7.5cm (3") & 10cm (4") widths in variety packs of 12 rolls per carton.
Peace of Mind for the Veterinary Professional
Millpledge Quality
ISO 9001 & 13485 High Quality Manufacturing for over 40 years
Unparalleled Customer Support
VN's or RVT's on hand to support your business
Delivering better patient outcomes
Products Designed and Developed for the Veterinary professional
Availability
Products are available through your preferred distributor or via Millpledge direct. We also export to Central & South America.